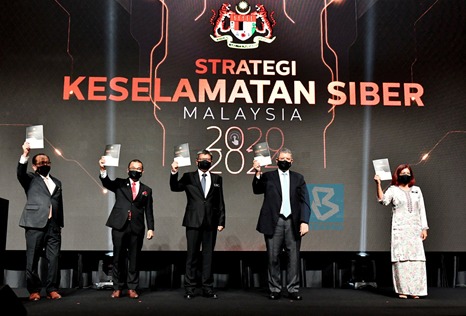 Malaysia Cyber Security Strategy (MCSS) 2020-2024
KUALA LUMPUR 12 October 2020: The government has launched the Malaysia Cyber Security Strategy (MCSS) 2020-2024 with an allocation of RM1.8 billion to step up national cyber security preparedness.

Prime Minister Tan Sri Muhyiddin Yassin said the Communications and Multimedia Ministry (KKMM) and the National Cyber Security Agency (NACSA) would be tasked with formulating, implementing, monitoring and coordinating the medium term action plan.

The Prime Minister said the strategy was drafted based on five pillars encompassing 12 strategies, 35 actions plans and 113 programmes, as the thrust of the cyber security mechanism would be to face any forms of cyber attacks.

"The first pillar, enhances the management of national governance and cyber security by improving the country's critical information and communication technology (ICT) infrastructure as well as raising the ability to deal with cyber security issues effectively.

MySeal
National Trusted Cryptographic Algorithm List
MySEAL is a project to develop a portfolio of national trusted cryptographic algorithms. It is a project specifically designed to provide a list of cryptographic algorithms suitable for implementation within Malaysian context that supports Dasar Kriptografi Negara (DKN). While DKN serves as a guiding document for Malaysia to achieve cryptographic sovereignty, MySEAL will support in the scientific areas of cryptography and cryptanalysis.